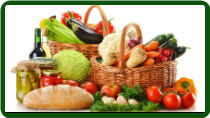 Click to enlarge image(s)
March 5
6:30 p.m.
$11 per person
Clear through the clutter to make better food choices
ARE YOU CONFUSED BY MARKETING PRACTICES OF THE MULTI-BILLION DOLLAR FOOD PRODUCERS?
Let's face it. Food labels are very confusing. Words like natural, organic, non-fat, low-sodium, GMO, gluten-free and more can have your eyes spinning in the aisles of the grocery store. Deborah Post will help us clear through the clutter to help you make healthy choices based on nutritional values and calorie counts. At the conclusion of her presentation, you will be able to out-smart the marketers and make wise food choices.
SEMINAR SPEAKER
Deborah Post MSN, ARNP is a Board Certified Advanced Nurse Practitioner with over 30 years of experience. She uses an integrative medical approach with her patients including medicinal herbology, nutritional and health education.