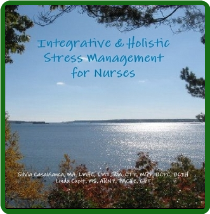 Click to enlarge image(s)
This book provides a blueprint for integrative and holistic management of stress for nurses (or any other healthcare professional). It discusses how in order to keep the body functioning optimally, it is fundamental to follow a healthy lifestyle, including a balanced nutrition and stress management strategies. Written by Eyes Wide Open director Silvia Casabianca who has a background as a physician, a reiki master and a mental health counselor and by Linda Cupit, an advanced nurse practitioner who created the first Wellness Center in NYC and practices as a consulting hypnotist in Florida

Authors

Board Certified Professional Counselor and Board Certified in Integrative Health, Silvia Casabianca is a former medical doctor currently licensed in Florida as a Mental Health Counselor. She runs the Eyes Wide Open center in Bonita Springs where she offers a holistic approach to her patients using traumatic incident resolution, Reiki, psychophysical integration and psychodynamic psychotherapy to individuals, couples, families and groups. She is also a writer and has authored Regain Body Wisdom and several other books on alternative medicine, psychotherapy and stress management.



----





Linda Cupit

is and Advanced Practice Nurse (APRN/ ARNP) who earned her credentials at Virginia Commonwealth University/Medical College of Virginia in Richmond, VA. She has developed many innovative Wellness Programs and has the distinction of setting up the first Wellness Center in New York City. After 30 years being a nurse practitioner, consultant, educator and administrator, she graduated from New York Hypnosis Training Center as a Certifies Hypnotist. She currently maintains a hypnosis practice at the Eyes Wide Open Center in Bonita Springs, FL.